Are you interested in volunteering at the Lloydminster Public Library?
We are looking for the support of volunteers to update our RFID tags. The process is simple and we'll provide all the training and support you'll need - no fancy tech knowledge required. Please contact This email address is being protected from spambots. You need JavaScript enabled to view it. for more information.
To sign up, follow the link below: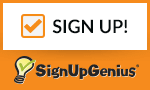 Free Regional Park Pass
This summer use your Saskatchewan Library Card to borrow a FREE Regional Park Pass. Passes are first come, first served and are valid for 7-day loan periods. Park passes are available to borrow starting May 18th.
Contact the library at This email address is being protected from spambots. You need JavaScript enabled to view it. or by calling 780-875-0850 for more information.
High School Circulating Art
Calling all High School Students. Would you like to have your art shared with all of Lloydminster? Fill out and submit the Application Form with a picture of your artwork to This email address is being protected from spambots. You need JavaScript enabled to view it.
If your piece is chosen, it will be professionally framed at no cost to you.
Your artwork with be on display and loanable to the public until June 15 of your graduation year. While your artwork is on loan your bio and photo of your artwork will be displayed as a placeholder.
The submission deadline is June 21, 2023.